1964-1968 Ford Mustang Parts
These ford mustang parts will look great in your Eleanor or Shelby mustang. It does not matter if you are creating, enhancing or repairing your car; we have the fiberglass body kit that you need.
As with any aftermarket auto body part, some preparation work is required before painting; sanding will be needed to achieve the look that will match the balance of your car.
All of our fiberglass products were tested on numerous mustangs, if your car is straight, our kit will perfectly fit.
Fiberglass is a strong low weight material. Its low weight makes it easier to transport and install.
We are the factory and we are always looking forward to deliver high quality products to you. As with any body work, you will always need to do some tweaking in order to fit your particular mustang, but no fiberglass work.
We manufacture these fiberglass mustang parts in Mexico using high quality Mexican and American material.
These kits are hand laid mat; they are reinforced with chopped mat, core mat, fiberglass cloth, etc.
NO HARDWARE IS INCLUDED.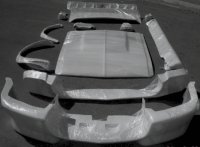 The complete mustang body kit includes:
front bumper cover, front light panel, fender flares (set of 4), upper scoops for the fastback models (pair) , lower scoops (pair), tail light panel, trunk lid, end caps (pair), muffler skirts (pair), and hood.

The fiberglass ford mustang parts that we manufacture fit de following models:

1964-1966 Ford Mustang 

1967-1968 Ford Mustang 

1932 Ford three window coupe
These kits have to be sent by truck freight only.